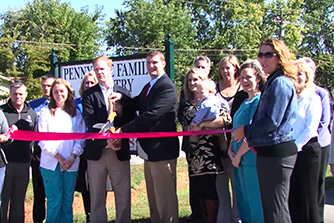 Welcome to Pennyrile Family Dentistry located in Hopkinsville, Kentucky! Dr. Joseph N. Falco, Dr. Ryan M. Vonnahme, Dr. Zachary T. Garnett and our experienced staff are dedicated to helping you improve your smile. Together with our highly trained staff, Dr. Joseph N. Falco, Dr. Ryan M. Vonnahme, and Dr. Zachary T. Garnett are committed to meeting all of your dental needs and goals! The dental team at Pennyrile Family Dentistry is eager to help you and your family achieve optimal oral health. We are proud to provide comfortable, painless dental care to all of our patients, and we are pleased to offer both cosmetic and restorative dentistry. Whether you are in need of a simple cleaning or a complex treatment, we are certain that we can meet your needs to restore your oral health. We invite you to browse our website, call us, or visit us in Hopkinsville, Kentucky to learn more about our dental practice and our services. Dr. Joseph N. Falco, Dr. Ryan M. Vonnahme, Dr. Zachary T. Garnett and our highly skilled team are always ready to help you maintain and improve your smile!
We have spent the past few months working very hard with many insurance companies to negotiate fees that would allow us to continue to provide you with the best that modern dentistry has to offer at a price that is affordable to you. As a result, we are now an in-network provider for the following PPO insurance companies:
Dental Network of America – BCBS IL, OK, NM, TX, AL
Many others that may fall under one of these, so please call if you are unsure.
Secondly, we are pleased to announce we have added a few more ways to pay online through links on our website. The options are PayPal, CareCredit and a secure link so you may use your Credit Card. Patient forms are on our website as well as insurance information.
We also want to remind you of our referral program. We are always actively seeking new patients. Your family, friends and co-workers are always welcome at Pennyrile Family Dentistry. You can be assured that they will receive the same quality of care and excellent service that you receive. We want to thank you for referring your family, friends and co-workers to our office. For each adult person who completes a new patient appointment and mentions your name as their referral to our office, we will send you a $5 gift card to Starbucks. In advance, please accept our thanks and appreciation.
Sincerely,
Joseph N. Falco, DDS
Ryan M. Vonnahme, DDS
Zachary T. Garnett, DMD